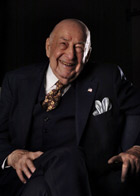 Morris "Marty" Silverman began his life as a tailor's son in Troy, New York and later relocated to New York City. Through sheer will and "chutzpah", he gained admittance to Albany Law School; where he paid his expenses, while earning his degree, by operating a gasoline service station in Menands, NY. His subsequent career in business was interrupted by his WW II service in the United States Army as an infantryman with General Patton's 3rd Army. During his tour of duty, he was awarded a battlefield commission along with two Purple Hearts and the Silver Star, among other commendations. Following the end of the European war, he served as a member of the American Contingency for the Nuremberg Trials.

After active duty with the Army, Marty (as he preferred to be called) established a pioneer business in the new field of equipment leasing for commercial, industrial, office and eventually computer businesses. This business saw success after success with the key assistance's of his wife, Dorothy and his brother-in-law Mel Rosen. He capped this trailblazing career with venturous investments in the budding areas of telecommunications. His "can do" outlook brought him into an important association with the then-fledgling MCI communications empire.

As a self made millionaire, a deal maker and a doer, Marty never forgot the difficult years of the depression that had affected so many of his family members. He notes that because of the experiences and the teachings of his parents he has always felt the need to give something back. Albany Law School along with the whole University Heights Campus is among the many fortunate recipients of his generosity. An Albany Law School Dean was once quoted as saying, "From the time he was in school to the time he became an alum, Marty has exemplified the sense of community in which we all take pride. He really believes that it is part of his destiny to support Albany Law School." Marty's generosity has also extended to other institutions such as; Rensselaer Polytechnic Institute, The former Bellevue Women's Hospital, The Palace Theater and many other worthy causes in the Capital Region.

For more than a generation, Marty had been involved in several philanthropic causes, some of which he inspired and initiated. The Marty and Dorothy Silverman Foundation was established in the early 1980's as a charitable institution dedicated to providing financial help to worthy programs particularly in the fields of health and education. The Silverman Foundation has been extremely generous to many of the Capital Region's medical and educational organizations.

The most noteworthy program of his philanthropy is the $50 million Albany Medical Center Prize in Medicine and Biomedical Research which is presented as an award of $500,000 annually. This prize, consistent with Marty's vision in making Albany an "International Center for Health and Education" is widely recognized throughout the scientific and biomedical community research community as "America's Nobel." The prize was first awarded in 2001.

In 2006, at the age of 93, Marty Silverman passed away. This marked the end of a remarkable life, but, given that several of his contributions were sprinkled around the capital region, his spirit of unselfishness and pride in the region continue to be ever present.